Report from NanoForum Stockholm 2015
NanoMed North was one of the exhibitors at last week's NanoForum in Stockholm. NanoForum is arranged by SwedNanoTech which is a nanotechnology network for both academia and industry in Sweden.
The "godfather" of nanotechnology; Eric Drexler was one of the keynote speakers and he gave a fascinating talk about advanced productive nanosystems. These nanosystems (nanoscale machinery) will according to Drexler have a large impact on for example life science industry in the future. If you want to know more about Eric Drexler´s work go to e-drexler.com.
"The Nanotechnology company of the year – award" was presented at NanoForum. The award is handed out to a young, innovative Swedish nanotechnology company. This year's nominees were: Cline Scientific, Exeger, Insplorin, Nanexa and Promimic. The award went to Exeger for their Dye-sensitized solar cells.
We had a lot of visitors at the NanoMed North stand and we give a warm welcome to our new members that signed up at NanoForum.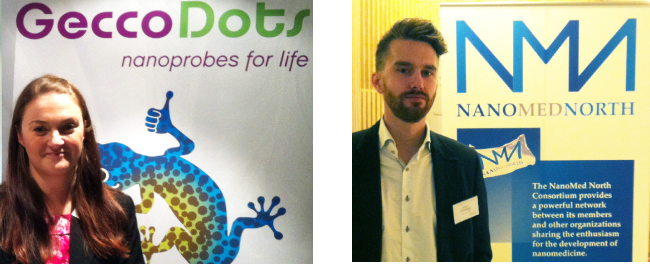 Hanna Toftevall from GeccoDots. One of NanoMed North's new members. GeccoDots is a nanotechnology company that work with multimodal contrast agents and biomarkers for medical imaging.
Niklas Holmquist, vice president of Cline Scientific, one of the nominated companies for the "Nanotechnology company of the year – award". Cline Scientific are providing gradient surface technology to life science applications.
https://nanomednorth.com/wp-content/uploads/2015/04/1Nf.png
269
233
Malin Bergholm
https://nanomednorth.com/wp-content/uploads/2021/04/NanoMedNorth-Consortium.png
Malin Bergholm
2015-04-24 08:59:11
2015-04-24 08:59:11
Report from NanoForum Stockholm 2015