INL is opening a call of 19 new positions to strengthen its research lines for highly qualified researchers
International Iberian Nanotechnology Laboratory
INL is opening a call of 19 new positions to strengthen its research lines for highly qualified researchers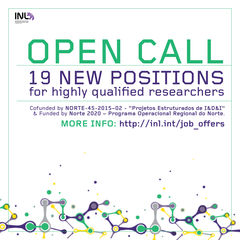 (4) Senior Staff Researchers
(4) Staff Researchers
(11) Postdoctoral Research Fellows
This call is cofunded by NORTE-45-2015–02 – "Projetos Estruturados de I&D&I", funded by Norte 2020 – Programa Operacional Regional do Norte.
INL – The International Iberian Nanotechnology Laboratory, was founded under an international legal framework to perform interdisciplinary research and to deploy and articulate nanotechnology for the benefit of society. INL aims to become the world-wide hub for nanotechnology addressing society's grand challenges with specific emphasis on Aging & Wellbeing, Mobility & Urban Living and a Safe & Secure Society.
The work undertaken by our researchers has a significant impact on people's lives and societal benefit. The objective is to ensure that staff is employed on the basis of skills and requirements for the job and that there is a mutually beneficial relationship between INL's expectations and the staff personal and professional career development. INL recruits from all over the world. We find the diversity and multiculturalism of our teams as well as family friendly working practices and benefits to be a great asset and an essential element in cultivating an attractive and inspiring workplace.
Call General Conditions: INL encourages researchers with a distinctive profile at the highest international level in their field of competency to participate and apply to this call.
Employer: International Iberian Nanotechnology Laboratory – INL.
The research programs: The 19 positions are to be allocated into the framework of 3 research programs
• Nanotechnology based functional solutions | Ref.NORTE-01-0145-FEDER-000019
• Advancing cancer research: from basic knowledge to application | Ref. NORTE-01-0145-FEDER-000029
• Frontiers of technology for theranostics of cancer, metabolic and neurodegenerative diseases (FROnTHERA) | Ref. NORTE-01-0145-FEDER-000023
Work Place: International Iberian Nanotechnology Laboratory – INL, Braga, Portugal.
Closing date for applications: For Post-Doctoral Fellows, August 30th 2016, 23:00 (WEST- Western European Summer Time); For Staff Researchers and Consolidated Staff Researchers, September 15th 2016, 23:00 (WEST- Western European Summer Time).
Employment Start Date: Ideally, successful candidates are expected to join the INL by the 4th quarter 2016. Starting date can be negotiated in particular for the Senior Staff Researchers.
Application Procedure: Applications must be formalised online through INL website: inl.int , attaching the following documents: a single pdf file containing the candidate's CV, a statement on research interest (2000-character maximum), list of the 5 most relevant publications, and the contact details of 3 references. Bear in mind that incomplete applications will not be considered for evaluation. The application language is English.
https://nanomednorth.com/wp-content/uploads/2016/08/2INL.jpg
206
231
Malin Bergholm
https://nanomednorth.com/wp-content/uploads/2021/04/NanoMedNorth-Consortium.png
Malin Bergholm
2016-08-31 08:19:48
2016-08-31 08:19:48
INL is opening a call of 19 new positions to strengthen its research lines for highly qualified researchers