Smart Materials & Surfaces 2019, European Graphene Forum 2019 and NanoMed 2019 joint events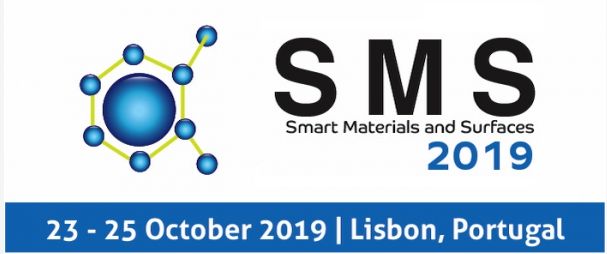 Smart Materials & Surfaces 2019, European Graphene Forum 2019 and NanoMed 2019 joint events
Submit your abstract by 26 July, 2019
Dear Colleague,
Lisbon (Portugal) will host the 5th edition of the Smart Materials and Surfaces – SMS 2019, the 5th edition of the European Graphene Forum – EGF 2019 and the 2nd edition of the Nanomedicine 2019 from 23 to 25 October 2019. One place, three conferences covering hot science trends.
Don't miss this opportunity to be part of the exciting joint conferences program by submitting your abstract for oral or poster presentations by 26 July, 2019 for consideration for more than 250 oral presentations and large poster sessions.
• Smart Materials & Surfaces, SMS 2019
• NanoMedicine Int. Conf., NanoMed 2019
• European Graphene Forum, EGF 2019
Check out the growing list of world-class keynote and invited speakers
More than 80 Keynote and invited speakers already confirmed their attendance including: Prof. Michael Sinapius (Germany), Prof. Jordi Arbiol (Spain), Prof. Aurelio Araujo (Portugal), Prof. José Miguel López-Higuera (Spain), etc. Check out the speakers full list while more speakers will be announced soon!
Venue and Accommodation Options
The conference will take place at InterContinental Lisbon hotel Located in the heart of Lisbon, facing Eduardo VII Park, Marques de Pombal Square and within walking distance to the luxurious Avenida da Liberdade. Click here for the available accommodation options.
Send this to a friend
Do you have a friend or a colleague that might be interested? Forward this mail to update him on this event. If you received this email from a friend, subscribe to the newsletter.
For more information, please visit www.setcor.org or contact us by E-mail.
We look forward to having you with us in Lisbon, Portugal!
Upcoming events
European Graphene Forum – EGF 2019 (23-25 October 2019, Lisbon, Portugal)
NanoMed 2019 (23-25 October 2019, Lisbon, Portugal)
Nanotech Middle East 2019 (3-5 November 2019, Dubai, UAE)
SurfCoat Korea 2020 (25-27 March 2020, Incheon/Seoul, Rep. Korea)
Graphene Korea 2020 (25-27 March 2020, Incheon/Seoul, Rep. Korea)
NanoSingapore 2020 (20-22 April 2020, Singapore)
https://nanomednorth.com/wp-content/uploads/2018/04/NMN_Annual-Meeting.png
400
800
Malin Bergholm
https://nanomednorth.com/wp-content/uploads/2021/04/NanoMedNorth-Consortium.png
Malin Bergholm
2019-07-30 06:31:19
2021-04-16 15:17:44
Smart Materials & Surfaces 2019, European Graphene Forum 2019 and NanoMed 2019 joint events